Porto is a beautiful place with its own special charm and is gradually becoming a trendy tourist destination.
There's plenty to do in Porto, Portugal's second largest city after Lisbon.
Many tourists only stay there for 2-3 days, but if you have time I suggest you visit for longer and discover a bit more about this wonderful city.
Despite the growing number of tourists, it still retains its authentic feel.
You'll notice it in the narrow, cobbled streets, the old buildings and the general pace of life in Porto. It's so easy to fall in love with.
Here's a mix of both popular and offbeat things to do and see in beautiful Porto.
As always, some of these are not your standard guidebook suggestions.
Ponte Dom Luís I
The Luís I Bridge over the Douro river is one of Porto's most famous symbols.
It's also a great place to take pictures from. The bridge has two levels, both open to pedestrians.
To reach the top level and get the most marvellous views, just walk straight towards the bridge from São Bento station. You'll know you're in the right direction when you see this:
This is probably the place to mention that if you have a fear of heights, you'd better skip this experience or maybe try the lower level.
Cross the bridge to the other side for more gorgeous views of the city.

Porto Architecture Tour
Walking around downtown Porto, I noticed some of it's captivating architecture.
Looking up is always a good idea. What I didn't know though, was that some of Porto's most impressive buildings are actually located outside the city centre.
Going on a guided architecture tour of Porto by AtWill was a way to discover the parts of the city I probably wouldn't have discovered on my own.
This tour just reinforced what every traveller knows: always go touring with a local, it's priceless.
The guide, a Porto-born architecture student, had a deep understanding and passion for the subject.
She shared a wealth of information and knowledge, not just about the buildings but also about the history and current state of the city.
The tour lasts four hours (with a break), but you'll hardly feel the time pass.
In these four hours I learned about Porto's leading architects and their personal styles and got a glimpse into the local culture from a fresh perspective.
What you'll see on the architecture tour
You get to explore different types of buildings, from public institutes to modern landmarks, from social housing to metro stations.
You'll see an unexpected side of Porto and get a very interesting picture of the relatively recent history of the city.
The tour starts at one of Porto's most famous museums, Serralves Museum.
It's an impressive building that teaches you a lot about the style of its architect, Siza Vieira. Later in the tour you'll find that you can identify his style in other buildings too.
The tour covers some other famous sites, like Casa da Música (a modern city landmark) and Trindade Station.
It will also take you to places you may not have thought to visit, like the Porto's Architecture Faculty – an amazing architectural piece.
If you're fascinated by architecture like me, this tour is a must for you.
AtWill – Porto Architecture Tour / Facebook / Twitter / Instagram & See more reviews on TripAdvisor
The Portuguese Centre of Photography
I felt a bit uneasy when I walked into the photography museum.
There was something austere about it which I couldn't quite put my finger on. Then I saw some massive metal bars right in front of me. A bit strange…
I wondered if these were put there to accompany the temporary exhibition that was on display at the time, which was about life in prison.
It turned out that the museum is actually inside a prison. To be precise, this huge, impressive building used to be a prison up until the mid 1970s.
Nice to see they put it to good use!
Alongside the temporary exhibition showing life in prison by two photographers with very different styles, which was fascinating and disturbing at the same time, there is also a permanent exhibition. This one is the museum's collection of cameras from different time periods.
It you're into photography, or just want to experience this huge, weird building, check it out. Entrance is free.
Centro Português de Fotografia website / Facebook
Livraria Lello
You'll find this on any list of top 10 things to do in Porto, as it's one of Porto's most popular attractions.
Who would have thought that a bookshop would be so fashionable?
Livraria Lello is the famous bookshop that inspired J. K. Rowling in her Harry Potter series.
It is one of the oldest bookshops in Portugal and it is indeed stunning.
Here's a 360° view:
As a major tourist attraction, the bookshop charges an entry fee of €4. However, if you buy a book there, they will deduct the fee from the price of the book.
Livraria Lello website / Facebook
Porto Lifestyle Walking Tour
On my first day in Porto, when I knew little about it, I took a free walking tour with Porto Walkers.
This one isn't your classic historical walking tour, but more of a blend of history and important monuments with stories about the city's lifestyle.
You'll get to hear Portugal's 20th century history in 10 minutes (!) or the history of the Jews in Porto, but you'll also learn about its street art scene and its drug policies, and even learn some words in Portuguese.
The tour lasts 3 hours (with a short break). Thanks to a charismatic guide with brilliant storytelling skills, you'll find yourself fascinated and curious to know more.
Porto Lifestyle Tour / Check reviews on TripAdvisor
Admire Those Tiles!
Porto's buildings are covered with colourful glazed ceramic tiles. They are everywhere you look and they are just marvellous to look at!
They are painted and create gorgeous patterns. Some with simple geometric shapes, some with impressive floral decorations. The dominant colour is blue, followed by yellow.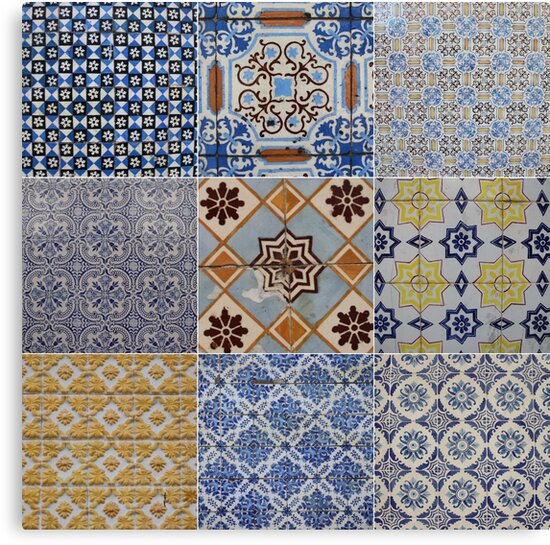 In some places they also have entire stories painted on them. Sao Bento railway station and Igreja Capela Das Almas are famous examples:
The Portuguese name for these tiles is azulejos. They're used on all sorts of buildings, from churches to restaurants to regular houses.
They're not just there for aesthetic reasons; they help in isolating the walls, especially in wet weather.
As you might expect, Porto's souvenir shops are full of items with tile prints on them, from t-shirts to notebooks. You can also buy some tiles and take them home with you.
Enjoy Porto's Street Art Scene
From great murals to sticker art, Porto seems to be full of wonderfully creative street art.
You can take a free street art tour in Porto (tip the guide whatever you like at the end of the tour).
Since 2013, the city of Porto moved towards embracing street art, instead of fighting it. New rules allow artists to paint certain walls with the official support of the city.
It's always nice when the value of urban art gets the recognition it deserves.
Apart from the incredible murals, there's plenty of sticker art and paste ups all around the city.
Get Inspired at Porto's Art District
Not far from the city centre, there's a bohemian heaven called the Art District, or the Art Block.
Rua de Miguel Bombarda and all the streets around it have an endless selection of art galleries, displaying contemporary art mostly, plus an array of design shops, indie fashion, vintage shops and craft studios.
Six times a year, all the galleries in the area unite for an event of simultaneous openings (inaugurações simultâneas), where they all launch new exhibitions at the same time. See the Facebook page for updates on the next event.
I found myself returning to the art block again and again during my visit to Porto. There's so much to see.
The whole area has a very alternative feel, with cool cafes and hipster bars, but despite being artistic, it doesn't feel pretentious or snobbish at all. That's undoubtedly part of the charm of this city.
Where to stay in Porto
There are three areas in Porto that are popular with tourists and I recommend you stay in one of them to make the most of your visit to the city:
Baixa is Porto's downtown area. Staying here means you'll be right in the centre and close to all the attractions.
Ribeira is the area near the river, that's always lively with bars and restaurants.
Cedofeita is where the art district of the city is (Rua Miguel Bombarda) and so it's pretty trendy. It's also central so you'll be close to all the main points of interest in Porto.
Here are my accommodation recommendations for each of those districts – all are very highly-rated and offer good value money:
Myo Design House is for lovers of vintage decor.
It offers suites and studios inside a renovated building in a super central location in Baixa, next to São Bento metro station. Click here to find out up-to-date prices.
InPatio Guest House is in Ribeira, close to the river.
This is the place to book if you want to stay in beautifully decorated rooms, within walking distance from Porto's sightseeing attractions. Check availability here.
Gallery Hostel is a one of the best budget-friendly accommodation options in Porto.
Porto is a very affordable city (even more than Lisbon). If you're travelling on a budget, Porto is an excellent destination to choose.
The hostel is located in trendy Rua Miguel Bombarda. It has both private and shared rooms, and breakfast is included. Click here to find a bed.
Portugal Guide Books
These are the top 3 guide books about Portugal:
More about Porto & Portugal
Share this Porto city guide on Pinterest:
I would like to thank AtWill for inviting me on the architecture tour. All opinions are my own.