This post is both a review of a new and exciting minimalist backpack and a practical guide on how to travel light. It's such a clever backpack that it will actually teach you how to travel light 🙂
There comes a time in every traveller's life, when you know you really want to stop lugging an annoyingly heavy suitcase around with you, but you still don't know how to get organised and actually start packing light.
This is where clever travel gear can make a real difference to the way you pack.
The new Journey bag was designed by a long-term traveller. It's a carefully planned minimalist backpack that combines all the features that he needed to be able to travel light.
The Journey was crowdfunded successfully on Kickstarter not too long ago and is already available on the market.
Tys Sniffen, the inventor, got in touch with me a while ago to tell me he was working on an innovative minimalist backpack that can be used as a carry-on bag.
I've already written quite a bit about the benefits of packing light and was impressed by his passion for promoting minimalist packing. After a short email exchange I was looking forward to try out The Journey.
The Journey isn't a bag, but rather a bundle of bags:
It includes 5 different bags (travel pack, day pack, toiletry bag, a hip pack and laptop case) plus various smaller sacks for shoes, tech accessories and two compression bags.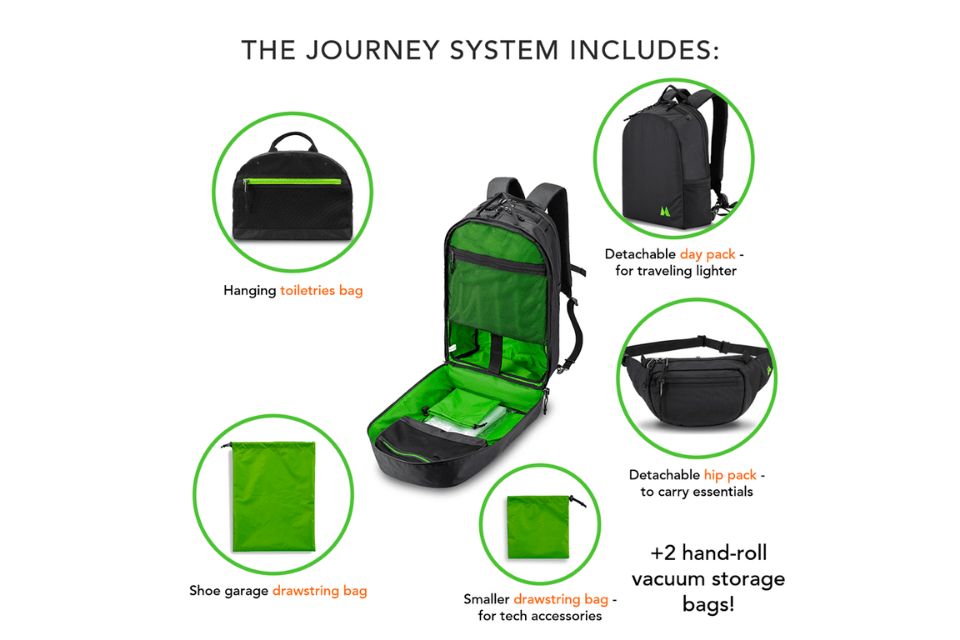 All of these are integrated into a single carry-on size backpack. This is what sets it apart from many other minimalist backpacks.
Basically, as you'll see below, I don't need any extra bags if I use this system.
When all the parts of the system are in place, you can travel with your hands completely free and everything you need immediate access to is within easy reach.
The bag system was shipped to me from the US and arrived just in time when I was planning a local trip from Tel Aviv to Haifa. About a month later I used it on a longer, international trip to Bulgaria.
The first trip was a short urban trip in hot weather. The second one was a longer trip in cold weather. Both gave me a chance to test the different bags in The Journey system.
In this post I'll explain how to use all the bags, what to pack, how to find the hidden pockets and why I think this bag is perfect for minimalist packing.
Packing my minimalist backpack
Travelling with The Journey was super convenient.
The first thing I noticed when I took it out of the box was how lightweight it was. I'm a fan of ultralight travel with one bag only, so this was a good start 🙂
Then I went on to unzip all the zippers and explore all the different parts and options.
When I packed for the trip I used this video to familiarise myself with all the small details:
Use discount code: BrightNomad
While it's quite intuitive, I wanted to make sure I wasn't missing out on any of the clever features, and there are quite a few of those 🙂
What i packed in the various bags
I've listed the things I packed for my trip below and explained how I used each of the bags.
You can use this as an example of how to travel light and still take everything you need with you.
The travel pack
This is the larger, carry-on size bag in the system. I used this bag mainly for clothes.
There's room for enough tops and trousers for about a week, but you really cannot pack too much in it – which is exactly why it is ideal for travelling light. It makes you pack just what you need.
I use the same principle when packing light for either long or short trips: Only pack clothes for one week.
Then do your laundry about once a week, and you'll never find yourself struggling with overpacking.
I roll my clothes for easy packing and everything could fit nicely into that space when rolled. There are adjustable luggage straps to keep your clothing in place.
I liked the large mesh pocket inside the travel pack. I used it for my sleeping mask and a couple of necklaces, though it has space for quite a bit more. You might also want to use it as a hidden pocket for valuables.
the compression bags
Two compression bags come with the system. They can save a lot of space in your luggage, and also help you organise things and find things faster when you unpack.
If you're unfamiliar with compression bags, here's how they work:
You put your clothes inside the plastic bag, zip it and roll the bag on a flat surface. You'll notice air being squeezed out of the bag. That means your stuff will take up less space. That's it.
I used one compression bag for socks and underwear that I didn't mind getting wrinkled. Your pyjamas can go into the compression bag as well.
On my trip to Bulgaria, I put one of my fleece jackets in the compression bag as well to save more space. I also packed warmer socks for this trip that went into the compression bag.
As for the other compression bag, I think the most efficient use for it is to turn it into a laundry bag. I put a sticker on it with the word Laundry, so I don't get the two mixed up.
That's a way to both keep your laundry separated from your clean clothes and save more space.
The rest of the clothes didn't go into the compression bags, because I didn't want them to get wrinkled. I just rolled them up and secured them in place with the luggage straps. I found there was enough space for my clothes on both trips.
For the cold weather trip, I took a couple of long sleeve thermal tops. They're lightweight and roll easily, so they are perfect for travelling light in winter.
packing extra shoes
The Journey comes with a dedicated space for an extra pair of shoes. The shoe garage has a drawstring sack that fits into a space at the bottom of the travel pack, in such a way that when your shoes are packed and held in place with the velcro strap, they help the bag stand straight.
I personally don't carry an extra pair of bulky shoes with me when I travel, but I always pack my flip flops.
They went into the shoe garage area, leaving enough space to store other things. On my local trip, I used the extra space for my compact quick-dry towel.
On my trip to Bulgaria I also used that extra space for my foldable waterproof jacket, which fit into it alongside my quick-dry towel.
The day pack
This bag is for everyday things you need when you walk around the city as a tourist or when you go to a coworking space if you're a digital nomad.
It is attached to the larger travel pack with a simple way to detach and reattach it. That's one of the most unique features of The Journey, and essentially lets you carry these two bags together.
The design makes you think about what you carry. It's not too big, so you won't be carrying too much on your back while walking around.
Also, It has plenty of pockets in different sizes to keep everything organised.
There are two water bottle pockets, so I used one for my water bottle and the other for my hand sanitiser.
The day pack comes with a laptop sleeve. It's detachable, so if you don't carry a laptop when you travel, you can either take it out, or use it to store other things.
The laptop sleeve stays in place inside the bag with velcro straps. It has various pockets for cables and other accessories that are super useful.
On my local trip, I took my laptop and also packed some fruit inside the day pack for the train ride, as well as my hat and my sunglasses, a small notebook and a couple of pens.
This way I has all of these handy, without carrying too much on my back.
On my international trip, I took more or less the same things in my day pack, plus an extra wallet for foreign currency.
There's another small drawstring sack that comes with this bag. It's meant to be used for small tech accessories, but you can use it for anything else…
On my local trip I didn't use it at all, because I could fit all of my accessories into the laptop sleeve pockets. On my international trip I used it for small things like lip balm, earplugs and post-it notes. Later when unpacking it was convenient to find them in that small bag.
This was a short description of the day pack, but it does have some additional clever features that are fun to discover – more about them later 🙂
the toiletry bag
It may look small at first, but it isn't!
I packed my solid shampoo bar (which doubles as body soap. There's definitely room for a soap bar as well); vitamins and painkillers; a hair comb; my toothbrush and toothpaste; dental floss; deodorant; essential oil; facial cream in a small container; some sanitary towels and a compact sewing kit.
I managed to fit everything in very easily and had plenty of space left.
For the longer trip I also packed a nail clipper and a razor.
While I don't wear makeup, if you do want to pack some, you can fit a compact makeup kit into the bag as well.
I already had a hanging toiletry bag, twice as large as the one that came with The Journey. On this trip I realised I really didn't need such a large toiletry bag…
The hip pack / sling bag
Since these came back into fashion a couple of years ago, it's now legit to walk around with hip packs and we can all admit that they are actually super useful.
The one that comes with The Journey is compact and has three compartments:
An external pocket, which I used for my earphones;
A main compartment, where I put my phone and keys (it comes with a magnetic key chain), as well as a spork;
An internal hidden pocket, where I put my slim wallet and ID card. It's also ideal for a passport.
It's designed for when you need just a few essentials, e.g. when you go out in the evening and don't want to carry your day pack on your back.
These essentials will most likely be your phone, money/cards and keys.
These are things that you may normally carry in your pockets, but it's far more convenient to carry them in this little bag.
Other things you can put in the hip pack might be a small pack of hand wipes or tissue paper; a small coin purse if you use one (though you can just use the external pocket for coins); a small hair comb; lip balm; a power bank; a pen and paper.
You can't put anything too bulky in the hip pack, which is a big plus if you want to travel light.
As for the way it looks, it's all black, so it will look good with just about any travel outfit. I decorated mine with a colourful pin.
If you're uncomfortable with wearing it around your waist, you can just wear it as a sling bag.
I wore it as a sling bag most of the time, because I think it looks nicer that way. However, when I was rushing to the bus station on the way back home, I found it more convenient to wear it around my waist.
Use discount code BrightNomad
Unpacking the minimalist backpack
When I arrived at my accommodation, unpacking was a breeze. It was very easy to see exactly where everything was.
I think even the most unorganised person ever would find it very easy to unpack and locate everything in the various bags.
After detaching the day pack from the rest of the system, I opened the travel pack. It has a clamshell opening, with all your clothing laid out in front of you. You just need to open the compression bag and take out whatever you put inside.
The toiletry bag is detachable too, so I just pulled it out and hung it on the bathroom door.
All that was left was to take the shoes out of the shoe garage.
That was it! Unpacking is always fast when you travel light, but the smart organisation of everything inside the bags and pockets made it even easier.
Clever features to discover in the bags
There are many clever and super practical features that I enjoyed about The Journey.
Here are some great ideas on how to use these versatile bags and their many, many pockets:
Each shoulder strap has a small pocket in it. It is a good place to keep your bus or train ticket.
I used one for my railcard and the other for a note with the address of my accommodation and directions (I always have it down on a piece of paper as backup in case I can't access the app on my phone for some reason).
You can also use it for other notes or cards, slim reading glasses, keys, extra cash or anything else that's small enough and you need to access easily on the go.
The day pack has a hidden pocket at the back. Once you discover it, it makes you wish all bags were made with a hidden pocket at the back!
It's large enough to hold several small, flat items.
I used it mostly for things that I needed quick access to, small change and receipts – it's super handy when you're at checkout and want to move on quickly.
As this secret pocket will be right against your back when you wear the backpack, you can also use it as an anti-theft pocket and hide small valuables in it when you travel, like a passport or your second credit card.
The hip pack fits into its own pocket at the top of the day pack. When you take it out, you get an extra empty pocket for things you need to access easily, like sunglasses or a power bank. Also, just like the hidden pocket at the back, you can use it for small change.
It's super useful to have this extra pocket at such a handy location.
When you're not on the move, you can also use that top pocket to place the hip pack in its pocket, and leave it open for easy access to the things inside it.
The laptop sleeve has two pockets at the front for tech accessories, but it also has an extra pocket at the back, which is larger.
I didn't use it on this trip, but can think of various things you can put in it, for instance, a tablet, a book or a notebook, an external hard drive, a power bank or just extra cables.
Use discount code BrightNomad
Who is the journey for?
The Journey is definitely the bag for those who like innovative travel gear and a minimalist travel style.
Beyond that, I can think of different types of travellers who will love this bag:
1. a minimalist backpack for people who want to learn how to travel light
For those who already travel light, I'm pretty sure everything I've said so far makes a lot of sense and you probably don't need further convincing 😉
But for those who are still learning how to travel light or still need to learn how to be more efficient or more organised in their packing, The Journey can serve as a great shortcut.
Why?
Because it makes you think about what you pack.
The key to packing light is carrying less, and the key to carrying less is to invest a bit of thinking and planning in your packing.
As I've been into one-bag travel for ages, I found myself explaining this to so many people over the years, and it seems that the extra bit of thinking and planning is a big obstacle for many.
I think The Journey practically removes that obstacle for those who struggle with packing light.
Instead of just stuffing anything you think you might need into a backpack (such a common mistake…), this bag system will give you little hints on how to plan your packing wisely.
For instance:
The hip pack is just large enough to carry your phone and some other essentials. You definitely cannot have it stuffed full of useless things. That will make you think about what you really need.
The shoe garage has space for an extra pair of shoes. There is no need to pack more than that.
The entire system is modular, so if you don't need some parts of it, just leave them at home.
The toiletry bag can carry a lot, but it's still compact. It will make you think whether you really need to pack everything in your bathroom when you go on a trip 😉 For example, you may find yourself considering alternatives to those bulky shampoo or shower gel bottles.
The Journey is designed as a carry-on bag. There is enough room inside the travel pack for clothing for a short vacation. However, if you travel long-term, there is absolutely no need to pack more than you would for a short vacation! When I plan a 6-month trip, I simply pack for a week and do my laundry once a week.
The compression bags that come with the system will help you save a lot of space.
2. a carry-on for digital nomads (or aspiring digital nomads)
Packing your life into a suitcase and moving around the globe is a lifestyle that requires some planning.
What to pack and how much to pack is a question that many aspiring digital nomads need to tackle.
I've been living the digital nomad lifestyle for a long time now. At the beginning I packed far too much, but the inconvenience that caused me quickly led me to stick to a packing list that contains only what I really need.
I think many digital nomads quickly find that adopting a minimalist lifestyle makes life so much better when you're nomadic.
As a digital nomad who wants to travel light long term, you'll find that The Journey lets you pack a carry-on size bag with enough clothes for about a week.
As long as you have access to a washing machine or launderette, that is really all you need. That's how I've been able to travel light on long-term trips for the past decade or so.
The laptop sleeve that comes with The Journey is detachable and you can take it out of the bag very quickly (that's useful for security checks at airports).
It includes an organiser for tech accessories. There's enough space for a few cables, phone chargers, a mouse, an external hard drive and the like, plus another pocket at the back for a tablet or other gadgets.
You can also detach it and use it for other purposes, if you already have your own laptop sleeve.
On my trip to Bulgaria I spent a month in Bansko, a digital nomad hub, and used to day pack on a daily basis when going to the coworking space there.
I was very happy with its compact size and the multiple pockets. All my gadgets and accessories were well organised and I always knew where everything was. This daily use made me appreciate the efficient, flexible design of The Journey even more.
3. backpackers who care about style
For backpackers who care about looks, The Journey is a great choice. It very easily combines style and function.
It's got this look that's smooth, sleek and stylish.
It can be carried on your back just like any other backpack, but you won't look like the average backpacker, because its design is pleasingly simple, with no exterior pockets.
You can also convert it into a carry-on suitcase or a briefcase style bag, as it has a handle both on the side and at the top.
Either way, it looks very elegant.
Where to buy the journey minimalist backpack
You can get The Journey directly from its inventor. The purchase comes with a 5 year guarantee. Though based in the US, international shipping is available.
Use discount code BrightNomad
Browse the site for more pictures of the various bags from all angles and for more info about the materials and durability (which I couldn't comment about in this post, as I know little about that, except that it feels like a very sturdy, quality product).
Any downsides?
There are only two downsides I could think of when tyring out The Journey.
The interior is bright green, which some people might find a bit too bright maybe. I personally didn't mind the colour at all, but I can imagine that if the bag comes in different colours in future, it would be even more attractive.
The other issue is the size of the laptop sleeve. It was perfectly fine for my 13.3″ Asus ZenBook, and you could probably fit a 14″ laptop into it as well. This of course makes perfect sense in the context of minimalist packing, but those who travel with a larger screen will have to use their own laptop sleeve and place it in the travel pack.
---
Save this minimalist backpack review on pinterest
I received The Journey for review. All opinions are my own and I am definitely going to use these bags on all my travels from now on. The links to the inventor's website above are affiliate links that may grant me a commission, at no extra cost to the buyer.