Riga is full of architectural gems! Art Nouveau is one of the things Riga is famous for.
The architecture in Riga is phenomenal.
Generally, you want to be looking up when you walk on the streets of Riga, especially in the city centre and its beautiful embassy district.
There's a wonderfully large collection of Art Nouveau and Art Deco style buildings in Riga.
I was really surprised to find so many and walking around Riga's Art Nouveau district in the city centre was a delight.
If you are planning a visit to Riga and love architecture and design, add an Art Nouveau tour to your Riga bucket list.
Where to find art nouveau buildings in riga
There are several streets around the city centre where you will come by many of these buildings:
Alberta and Elizabetes are the streets famous for their architecture. They both have a wonderful collection of beautiful and creative buildings to see.
You also want to visit Vīlandes street not too far from there for some more interesting buildings.
The art nouveau museum in riga
I visited the Art Nouveau Museum in Riga which is a must for any architecture or design lover.
It is a reconstruction of an original Art Nouveau apartment on Alberta Street in the city centre. It's just over 100 years old.
You walk between the rooms, admire the decorations and read the story of each room with historical details and explanations.
Before you enter the museum, look up! The staircase is a classic:
Art nouveau in riga guided tours
To see all the Art Nouveau and Art Deco gems in Riga and to understand the history and the context of what you see, take a guided tour with a local expert.
The locals are proud of their Art Nouveau heritage and there are quite a few tours on offer. Here's a selection:
You can take a free Art Nouveau tour in Riga and pay what you like at the end of the tour.
The art nouveau riga design shop
Across the street from the Art Nouveau Museum there's a lovely shop dedicated to Art Nouveau style design items.
It's well worth a visit. It has many beautiful and charming items and feels more like a small gallery than a shop.
Photos of art nouveau buildings in riga
Art Nouveau and Art Deco decorations are everywhere. Some facades are simply stunning.
Even if you see a building that looks a bit plain at first, look again and you're likely to find interesting details in the doors or windows.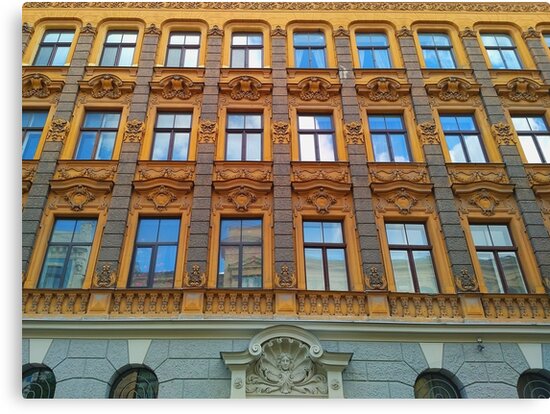 Find out more about riga
share this guide to art nouveau in riga on pinterest: